Thursday, December 14, 2006


Made It!

I did stick it out with Paul and Brianne for 24 hours! Man, it was weird. Jeff Tweedy only did 2 songs, but one was my request which I pulled out of my ass... Passenger Side! Oh yeah, my group of friends won a Jeff Tweedy show! Will this year be proceeded by a superstar lineup the night before? Signs point to yes. (Note: If you are in a superstar band, please contact me ASAP.) Langford and Timms did Drunk by Noon (one of my all time beloved songs). Robbie Fulks and Gerald Dowd did not play the hits, but were still great. I had never seen Shellac nor really even listened to them; (WTF, the last album was out in 2000) now they will be forever for now what 3am sounds like to me. Detholz! were in some otherworldly context at 9am on sleep dep and too much caffeine. I wish I had gotten up and danced rather than lame chair dancing, but oh well. Oooh, I hope that version of Frosty the Snowman makes it out there! Devil in a Woodpile at 12 noon were an unexpected surprise, I think Brianne and I both forgot about them, but it was a lively if temporary pick me up. That, and having to march with everyone to the restrooms whilst whisteling Bridge Over the River Kwai. Paul wandered back in from his garage nap at some point and after Devil we ran over to BM (Paul's abbreviation for Boston Market which wasn't really good) for a quick lunch before Jason Molina. He played Bowery and some maybe unreleased stuff? His voice totally sounds incredible w/o the band. I mean, he sounds fine with the band of course. Fast Forward to the Blisters who even while down a guy, delivered the ROCK. They did at least 4 originals, which I really thought were all songs from the last Strokes record. I am not joking. There may have been a bra tossing incident (of which we are innocent, I wish I didn't need to post that, but I suppose I just better). Uh getting blurry... Our huddle of three got up to 6 with Sandy, Sooz and Laura all coming back, and I managed to get my hands on the raffle prize I wanted the most. (I am not telling you what it is. I may post a picture later. Dinner at Sweets and Savories was a NEEDED luxury (and worth every $$) and I have somehow managed to stay up 'til my normal bedtime after not having slept since going to bed Monday Night (theoretically Tuesday Morning of course). What else? Happy Birthday Dick, The Office hour Xmas ep tomorrow, clueless of weekend possibilities, a little more than a month til the next sleep study which means I need to "clean up my act" soon (mega-air-quote hold the - please). Oh and Patti will be here for Christmas! Hot dog!

Sam @ 2:48:00 AM|


---
Tuesday, December 12, 2006


Letters to Santa 2006

Off to Second City e.t.c. for the Letters to Santa thing. This is my 5th one! Wow, that first one was pretty different, there was hardly anyone there. In the next 24 hours there will be Jeff Tweedy, Langford and Timms, Robbie Fulks, Shellac at 3am, Detholz! at 9am, Jason Molina, the Blisters... dang! This may be the first one I don't go home for in the middle. Looking forward to spending time with Brianne and Paul too.

Sam @ 1:12:00 PM|


---
And 5 more...
40. White Magic - Dat Rosa...
Piano weirdness that sounds like it's from a cave inhabited by lunatic gnomes. There's not a lot of that out there.
39. Jason Collett - Idols of Exile
There is nothing really different happening on this album, but he certainly does that in a likeable fashion.
38.Scissor Sisters - Ta-Dah!
I wish there were more disco-y bands around right now. It is difficult to listen to this without wishing you were wearing sequins and feathers and a tiny spoon on a chain and dancing at Studio 54. Two words: eltonjohn beegees.
47.Josh Ritter - The Animal Years
Pretty, folky, songs about war and being in love with girls.
36. Richard Buckner -Meadow
Richard Buckner makes Richard Buckner records. He sounds like Richard Buckner, and nobody else. He will occasionally change up the instrumentation. you are either a Richard Buckner fan or you are not, and you're never going to hate anything he does.
Sam @ 1:11:00 PM|


---
Next 5
45. Bobby Bare Jr's Young Criminal's Starvation League The Longest Meow
Not many out there are still country rockin'. BBJ gets a pretty good gang together and rocks the fuck out. Perhaps not as nuanced as his last few, but what are you gonna do.
44. Gnarls Barkley St. Elsewhere
It would be CRAZY not to have this one on here, right? Bwahahaha. It's a good album, but that may well be song of the DECADE! MILLENIUM! Who do you who do you who do you think you are?!
43.Someone Still Loves You Boris Yeltsin - Broom
These dudes opened for Catfish Haven, and they reminded me of Sloan in a good way, so I checked out the album. There are some Sloan-ey elements like lovely harmonies, but there's something else going on too. Check 'em out!
47.Johnny Cash - American V: A Hundred Highways
It should not come as a shock that Johnny is putting out records from the grave. I mean if 2 Pac can do it, so should this OG. I was pleasantly surprised by this one, I was expecting a real bummerfest, but it's a lovely tribute to him. (Note: I refrained from calling him "The Man in Black".)
46. Pink Mountaintops -Axis of Evol
This band (guy?) could be called "Someone Still Loves You Velvet Underground, but I guess that's an obvious statement, and they don't really need the affirmation Mr. Yeltsin does. The last Pink Mountaintops was all the "yay! rock n roll party excess!" album and this one is the aftermath. You may indeed hate yourself in the morning and your stomach will cruddy, but you won't regret it.
Sam @ 1:09:00 PM|


---
Friday, December 08, 2006


Bottom 5 of 50 for 2006!
50. Gossip Standing in the Way of Control
A pretty good album from the souly southern punkers, but the title track itself is easily one of the years best songs.
49. Matthew Sweet/Susanna Hoffs Under the Covers Vol. 1
Yes, it's an album of 2 artists not held in very high regard doing mostly 60s covers from the usual suspects, ala Dylan, Beatles, Bee Gees, Love. The harmonies are other worldly though, and it's a lot of fun to sing along with. Tacking on the "Vol. 1" is going to make them look pretty stupid of "Vol. 2" never happens though.
48.Arctic Monkeys - Whatever People Say I Am, That's What I'm Not
I'll pretty much always check out what the Brits have their knickers in a knot over, and this is a good solid rock album from some young dudes. Will I buy their next one? Probably not.
47.Beck - The Information
Whoa. Another damn Beck album, another alleged return to form. At least the stickers distracted me from the fact that it's really NOT that different from Guero, which was a pretty okay album. I haven't even watched the DVD yet, which might have propelled this one a little higher. Hmm.
46. TV On The Radio -Return To Cookie Mountain
I feel like TVOTR didn't deliver on the statement made with the title of this album here. Where are the cookies? I don't find myself singing along like I did with the first full length. Oh well, it's still good.
Sam @ 1:15:00 PM|


---
Wednesday, December 06, 2006


Working for the man every night and day
Okay, not really, but I did volunteer to work on my day off so Adam can rehearse, so I have 48 hours this week. Hooray! I will be going to see said Adam along with Ralph "Soul" Jackson at the Hideout Friday and suggest you do the same.
I finally beat the first boss on Wii Zelda, and Matt and I watched
Jubilee
last night which was simultaneously awful and awesome.
Sam @ 1:00:00 PM|


---
Sunday, December 03, 2006


Party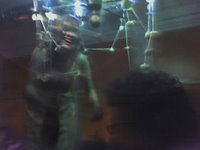 I absolutely wasted the day away playing Wii. Trauma Center, and some classic Zelda. Sooz and I went over to Laura's for a Look at this baby gathering, where some very good food was had, and the company was mostly nice. I looked at the baby.
Sooz and I then went to Target after hearing Kris and Alison talk about Super Monkey Ball and I used my $40 credit there towards it. The mention of Monkey Tennis was all it took, really.
I then surprised myself by agreeing to go to a party with Adam, that was a pretty cool party. It looked cool anyways, with a water theme.
Man it is 14 degrees out there. I love this time of the year though! The lights and the snow/ice, and the crunching of the ground. And an increase in beardos.
Sam @ 4:46:00 AM|


---
Saturday, December 02, 2006


Nothing Much

Has been happening, really. Matt and I have been watching some Manheim Steamroller Holiday concerts and Sooz and I put together the Playmobil advent calendars. Still playing Wii. BTW my Wii # is 3399 6206 0960 9445... if you have one, add me!

Sam @ 2:01:00 PM|


---
Friday, December 01, 2006


Sam @ 4:18:00 AM|


---
Sunday, November 26, 2006


Wiidowed

Yes it's true I have been posting not very often since I got the Wii last week. I did take some time away to see My Morning Jacket. They did 5 songs from At Dawn! Two of them with a freakin' orchestra while wearing tuxedos!! And the Dark from TN Fire! And the lights! My gods it was 2 hours of something from planet awesome.

Sam @ 3:11:00 AM|


---
Sunday, November 19, 2006


#47 out of 81.
oh gods I am tired. But mission Wii was successful! I am the proud owner of the 47th Wii sold this morning at Target, with Zelda, Excite Truck and Trauma Center(!) (you got a $20 gift card when you bought three games, so why not?) I did make some friends in the line, and there was even DS pictochatting. It was cold, wet, somewhat miserable, but I was surrounded with cool people. I am hungry and want to play, but I think I may just go to sleep with the box in my bed.
Oh yeah, Dan's B-day! More on that later. When I wake up and tear myself away from my Wii!!
Sam @ 8:54:00 AM|


---
Thursday, November 16, 2006


OMG! I Forgot!
If you are in these places please go see Mucca Pazza, they are so wonderful live!
Mucca Pazza - Gigs!
: "Fall Tour 2006
Thursday, November 16th
At the High Noon Saloon
Madison, WI with Low Skies and The New Kentucky Quarter, 9pm, $8, 21
Friday, November 17th
At the Gardner Lounge
Grinnell College, Grinnell, IA with Low Skies
Saturday, November 18th
At the Turf Club
St. Paul, MN with Low Skies and Hockey Night, 9pm
"
Sam @ 12:37:00 PM|


---
Sam @ 1:24:00 AM|


---
I have failed.

I was only going to be listening to music from 2006, so I'm digging thru my records and come across this pile of Radioactive reissues I totally forgot about ordering. Oops.

In exciting news, Tim is going to sleep with a dangerous object next to his bed tonite. Sleep tight, residents of Lincoln Square!

Sam @ 1:06:00 AM|


---
Tuesday, November 14, 2006


Sam @ 1:14:00 PM|


---
Under appreciated religion of the day:
ECKANKAR
.
Sam @ 4:43:00 AM|


---
oh what is happening

So many shows happened: Thurston Moore and an awesome Sun Ra tribute at Hideout, Mucca Pazza at Martyrs, watching Adult Swim Sunday nite, and still not yet seeing Borat! (tomorrow? I really should 'clean' my room tomorrow.)

Sam @ 4:39:00 AM|


---
Wednesday, November 08, 2006


oh damn i have been neglectiful
Where did I leave off? Halloween I did go see Lord Mike and his Dirty Calypsonians. I was Natalie from Facts of Life. Uhhhhh what has happened since then? last night Adam and I caught a secret Mucca Pazza show at Hideout. Had dinner at Meg's Sunday. I'm sure I did more fun stuff. Oh, Matt and I saw Marie Antoinette and both thought it was really cool. That night we had a beer at the Hansa Clipper with Adam and Gabe. I feel like I went to some more shows. Oh well, going into a streak here: tomorrow Robyn Hitchcock at Metro, Thursday Pernice Bros. at Schubas, Friday Thurston Moore at the dang Hideout!!!, Saturday Mucca Pazza at Martyrs, Sunday I should rest but I bet there's something!
I am now crashing into the albums of 2006 so I can write an informed top 40 (or more!) list. If you see me listening to anything that was not released in 2006, smack me. Today I rediscovered Destroyer's Rubies. Just got Someone Still Loves You Boris Yeltsin. Okay, I need to focus.
Oh yeah, got a new phone that is pink and takes good pictures! Why, here's one of Nick in his just had knee surgery machine (little did I know I could have taken a VIDEO of it!! OMG!!):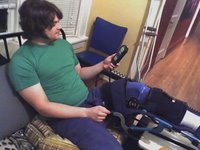 Sam @ 3:44:00 AM|


---
Tuesday, October 31, 2006


First Annual Candy Corn Social

thanks to all the guests (all 7 of you!) who made it such a success! Candy Corn and Cheese was consumed, beer was had, Ghosts were Busted. Tamales were gotten at Club Foot later on and more Ghosts were Busted. You know, Bustin' makes me feel good!

Oh and Califone last nite at the Hideout was incredible. The new songs are wonderful, the old songs never get tired, it always harkens back to that first time at Links Hall when I saw them open for Godspeed and flipped out. I really love that band a lot. That, and dramatic readings from Wassup? magazine with Lou (not to mention some serious car hanging out time) made my third night in a row at the Hideout pretty hooray.

Calypso tomorrow? Costume? Yikes. I don't work 'til 4!

Sam @ 4:41:00 AM|


---
Sunday, October 29, 2006


hooray Detholz!

wow, tonite's jukebox of the dead show at the empty bottle was amazing. also amazing was my reclaiming of the top score on music trivia on that machine people don't realize is there.

yeah, they did TWO Phil Collins songs, well, one was Genesis, and OMFG that Miami Sound Machine Conga was incredible! and now the album is in my possession, YAY! then we went over to the h/o for the East of Edens dance party! now I feel like i'm gonna puke! hooray! work tomorrow, then califone, back to the hideout. and i should try to reserve a wii at TRU, but i think i wont make it.

Sam @ 3:36:00 AM|


---